For me the answer is simple; YES!
It's where I first found the adorable, 'House Mouse' collection (soooo cute)
It's also where I find great inspiring galleries on her CD roms. No one shows off their CD roms better than Joanna Sheen.
You'll probably have seen that I'm a fan of entering some challenges with my cards. What I didn't realise is that Joanna Sheen has a challenge blog!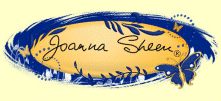 Up to Thursday this week the challenge is 'rain or shine'. They set new challenges each fortnight and as you'd expect from the Joanna Sheen team, there's great prizes!
Head over to her blog for more details. I know I'll be playing along :-)
In one of my product month focus I'll definitely be picking out one of her CD's to play with :-)
Question is whether it's 'Viva La Diva' or 'More than Words' or .........
Have fun
Teresa xx